Considering Collaboration
The collaborative divorce process works best for partners experiencing moderate levels of conflict, who face the likelihood that, without an intensive team process, their negotiation might collapse into litigation.  Collaboration requires good faith and hard work, but provides a great deal of support for the separating partners.  For higher conflict couples, collaboration may be the right choice to maintain a commitment to divorce with dignity.
CORE COLLABORATIVE LAW PRINCIPLES:
• No court intervention or threats of court intervention.
• Good faith disclosure of all pertinent information and documents.
• Client-centered, interest-based negotiation at a pace participants choose.
• A safe, fear-reducing environment for clear-headed decision-making.
• Protect children and vulnerable persons. Be fair. Live your highest values.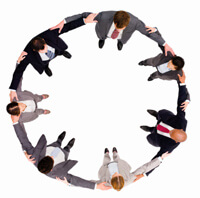 If you think that reading the fictional story of Helen and Joe Middleton and their two children, Peter and Hallie, would help you understand collaboration, click the following title to link to the story:  Middleton Family Collaborative Divorce.
Is Collaboration Right For You and Your Partner?
Information Your Collaborative Team May Need
Resources
International Academy of Collaborative Professionals.  This is the umbrella organization for collaborative practitioners globally.  The website is a cornucopia of valuable information and exchange of ideas.  collaborativepractice.com.
Cascadia Collaborative Divorce.  This open group of collaborative professionals meets in the Northgate neighborhood of Seattle, and welcomes new-comers to collaborative law, as well as seasoned professionals in this form of conflict resolutions.  http://www.cascadiacollaborativedivorce.com.
Texas Collaborative Law.  The collaborative community of Texas is a force to be reckoned with.  Their website contains useful advice, good video segments, and an outsized view of collaboration one expects of Texans.  collablawtexas.com.
Minnesota Collaborative Law.  Collaborative law started in Minnesota.  You may want to check out the website of the Collaborative Law Institute of Minnesota.  We especially liked their FAQs section.  collaborativelaw.org.