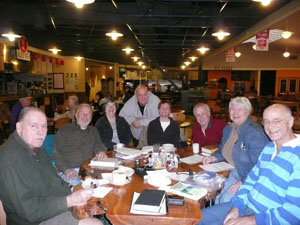 Rain City Rotary ("RCR") makes friends by serving people.  Kim and Brad value RCR's work in feeding and housing local families in need, its work with Rotary International to eradicate polio and provide clean drinking water to villages lacking this resource, and a myriad of other worthwhile projects.  RCR serves to make us aware of people and needs we would otherwise never encounter, and builds friendships among members in the process.
You can learn about the activities of RCR at its website:  www.raincityrotary.org.  Please visit RCR for a meeting.  You can find the calendar and time and place of our gatherings at the RCR website, as well as the schedule of our upcoming service projects.
RCR shares the values described in Rotary's Four Way Test, the Object of Rotary, and the Servant's Pledge.  The text of the latter follows:
I PLEDGE: To serve locally; To extol goodness in others and myself; To confront my shortcomings; To speak truth and expose lies; To embrace promising new ideas; To nurture friendships near and far; To adopt all humans as family; To act fairly; To remedy ills; To build consensus; To promote peace; To question wars; To make my job a way I serve; To lavish good will; To hope; To reject cynicism; To support the best of Rotary; To serve internationally.
Brad occasionally writes induction talks for incoming members.  Those tidbits are attached below:
Meaning of Rotary

Serving

Money

Humankind

The Name "Rotary International"

In the Company of Friends

Three-Legged Stool

The Rotary You Join

Habits

Parts

Building the BIG Thing

The Friend You Are
Rotary is a remarkable organization.  Visit a Rotary club in your locale.  See what good you might do.