WOODHAVEN
I write in praise of Woodhaven Veterinary Clinic.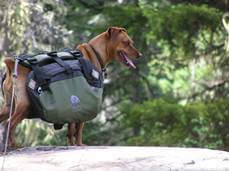 Woodhaven beckoned because red geraniums clung to their chain link fence.  I would like to say we sought Woodhaven's expertise because of the manifest professional competency of veterinarians Brudvik, Creason, and Endicott, supported by the caring ministrations of their staff.  Of that, we knew nothing at the time.  It was the geraniums.  Geraniums and Lucy.
Ten years ago, Lucy was a teacup of puppy sass.  Woodhaven administered juvenile inoculations and spayed Lucy.  Dog-rearing advice ensued.  There came, as Lucy matured, paw pustules to excise, raccoon attacks to mend, teeth to clean, assorted bumps and bruises to nurse—all the common nibbles that canine life portends.  Then, while still young, Lucy had her first "infection of unknown origin (IUO)."  Diagnosis proved elusive.  It was pancreatitis.  It was a congenital bowel defect or liver injury.  It was something she ate.  It was an internal puncture wound.  We and Woodhaven guessed and watched, hoping to ferret out the root of Lucy's periodic affliction.  Antibiotics and love chased away the demon, for a time.  The IUO recurred, but was managed.  From IUO we learned the mettle of the Woodhaven staff.  Life's nameless unknowns expose our characters.
Lucy entered her last year in the fall of 2008.  A second challenge emerged.  A pituitary tumor overstimulated her adrenal glands.  Cushings, they called it.  We treated Lucy's Cushings by chemically ablating Lucy's adrenal tissue.  Then all hell broke loose.  Lucy's hyperactive adrenals had masked her chronic IUO.  As her cortisol plummeted, the infection ran amok.  Lucy neared death.  Woodhaven puzzled and tested, then referred us to a specialist in veterinary internal medicine, who puzzled and tested.  Finally, we determined Lucy had an IUO, which told us what we already knew.  With substantial hospitalization, Lucy rebounded, commencing Woodhaven's high wire act.  What was good for IUO was bad for Cushings, and vice versa.  Our veterinarians balanced interventions to optimize Lucy's waning quality of life.  We became Woodhaven regulars; efficient, caring staff shuffled us to examination rooms again and again.  Our little dog declined, but savored many joys and comforts.  On September 25, 2009, Lucy died upon the gentle ministrations of Ann Brudvik.
Drs. Brudvik, Creason, and Endicott showed us depths.  Americans sometimes (unfairly) ask their professionals to be omniscient.  Egos tempt doctors to accept such fawning flattery.  Our Woodhaven doctors showed humility and persistence in the face of veterinary unknowns.  The finest professionals harness technical education, experience, and cognitive dexterity to the best impulses of their hearts.  Woodhaven staff did so for Lucy.
In the final minute of our year-long struggle, Lucy breathed her last.  Death's impenetrable door clicked shut.  We call now, but there is no yip.  Lucy's food is untouched, her bed cool.  We cry.
That sad September afternoon, tears wetted Ann Brudvik's face as well.  The finest professionals serve hearts with minds.
Thank you, Woodhaven.  You have our gratitude.